Reference Subwoofer Performance Hits New Lows
Breathtaking output and extreme low frequency extension with accuracy and control, the 3000 Series combine the most sophisticated SVS subwoofer technology with trailblazing innovations to take reference subwoofer performance to new lows. All-new 13-inch high-excursion SVS driver with 25 lb. dual toroidal magnet motor generates massive output to energize a room while delivering at the lowest frequencies with authority and control. 800 watts RMS, 2,500+ watts peak power Sledge STA-800D2 amplifier with fully discrete MOSFET output delivers ample current to effortlessly power the driver to max excursion levels and fill a room with pulse-racing bass, while remaining distortion-free.
User Reviews
Jeremy B. Reviews the 3000 Micro

"I have a high end 2 channel system and it was just lacking a little "low end". To say I'm blown away is an understatement. You have built an absolutely incr...
EEWdad reviews the 3000 Micro

"if you are looking for terrific bass performance in a small form factor, this is it. Great-looking, too."- EEWdad.
Ross K. Reviews the 3000 Micro

"This is a fantastic subwoofer. I'm using it for a desktop system primarily focused on music."- Ross K.
Michael B. Reviews the PB-3000

"Everything I was expecting and more!! SVS has hit the jackpot with this sub..."- Michael B.
Jim D. Reviews the SB-3000

"This sub has made all the difference! Amazing change that gave me the chest thump I was looking for even at low volumes."
View all User Reviews
Press Reviews
The Master Switch Reviews the 3000 Micro

"The most impressive sub we've ever tested. Does the impossible, delivering world-shaking bass from a very tiny package. An easy addition to our Editor's Cho...
Qobuz Reviews 3000 Micro

"Incredible performance! Whether you're rattling the foundations with serious bass or adding some fullness to your setup, it's hard to see how you could not ...
Home Theater Review Ranks 3000 Micro "Best 8-inch "

"Powerful and precise, this dual-8″ subwoofer looks impossibly small given the bass it produces. This sub can legit play down to 23 Hz thanks to the 800-watt...
AV Online (Hungary) Reviews 3000 Micro , Earns "Highly Recommended" Award

"Produced a considerable amount of bass, and thanks to its closed design, it also gave speed and control to the force. Merged with speakers like a lamb. Slee...
High-Res Music Streaming Site Qobuz Hypes 3000 Micro for "Big Bass in a Small Package" in Review

"Incredible performance! Whether you're rattling the foundations with serious bass or adding some fullness to your setup, it's hard to see how you could not ...
3000 Micro Receives HiFi Magazine's (Netherlands) "Recommended" Award

"The 3000 Micro is lightning fast…and really capable of bizarre things given its size. It seems to deliver more pressure at low volume than my larger subwoof...
Home Theater HiFi Reviews Dual SB-3000 s

"Managed to pressurize the room with its subsonic level bass very convincingly, producing chest-thumping bass ripples. As capable in producing the sound of l...
Sztereomagazin.hu (Hungary) Reviews the 3000 Micro

"Strong, tight bass marched around the couch, the room filled to the brim with deep tones. It greatly contributed to the enhancement of the sense of presenc...
Stereophile Reviews the 3000 Micro

"Music had significantly more air, space, reverb, trails, timbre, nuance, and emotion. I was deeply impressed. Highly Recommended!"
Speaker Ninja Reviews the SB-3000

"Delivers exceptional performance. Whether you have an upgraded home theater system or a simple hi-fi setup, this subwoofer enhances your sound enigmaticall...
YouTuber 'TwoGuyzTech' Reviews the SB-3000

"This subwoofer produces tactile bass that is tight, impactful and really pressurizes a room. Great for music and movies, definitely the best subwoofer I've...
YouTuber 'Joe N Tell' Reviews the 3000 Micro

"You get the best bang for your buck with this micro subwoofer as it will definitely fill your room with low end bass output that you wont expect, with auth...
YouTuber 'Youthman' Reviews the 3000 Micro

"A beauty for a micro subwoofer and perfect for small to medium size rooms. Great output with incredible app control, just blown away by its performance. De...
HT Guys Podcast Reviews the 3000 Micro

"Hard to believe a small subwoofer like this could produce sound so big. It performs like subwoofers twice its size. You've heard the term 'punches above it...
TED Publications Reviews the 3000 Micro with SoundPath Wireless Audio Adapter

"It is amazing how the sonic assault of a subwoofer this small made me smile. Added depth with enough rumble and kick to boot. Very naturalistic tone. Highl...
Home Theater HiFi Reviews the SB-3000

"The SVS SB-3000 is a great subwoofer, period. I like many things about this subwoofer: its compact size, its handsome look, its great build quality, its gri...
YouTuber "Zero Fidelity" Reviews 3000 Micro and SB-1000 Pro

"You definitely get your moneys worth with either of these subwoofers. For under $1,000, the 3000 Micro is great for music and home theater, and gives you na...
3000 Micro Receives Home Cinema Choice's "Best Buy" Award

"Slam, depth, and output all beguile. I was feeling battered and bruised by the performance of this cute cube. Its upper-range bass performance felt spot-on ...
HomeTheaterReview.com Reviews the SB-3000

"A seriously sophisticated audio device, one that can render subtle differences in bass inflection, but with the capacity to slam hard. The power of the sub...
Audioholics Honors PB-3000 in "Best Powered s under $1,500 for 2021"

"A competent deep bass digger with strong output to below 20Hz. PB-3000 may be our favorite subwoofer that SVS has yet produced. Another great well-rounded ...
View all Press Reviews
Chest-pounding, musical bass with accuracy and depth from a shockingly compact 10-inch cabinet that fits anywhere. The miniature yet mighty SVS 3000 Micro subwoofer seamlessly blends into any room and speaker system, energizing the space with astonishingly rich, effortless, and detailed bass that's all the more impressive given its micro-sized enclosure. Features fully active dual opposing 8-inch drivers, 800 watt RMS, 2,500 watt Peak Power Sledge STA-800D2 amplifier with discreet MOSFET output, and the SVS subwoofer control smartphone app for advanced tuning of the DSP.
Driver

| Active Dual Opposing 8-inch

Amplifier

| 800 watts RMS (2500+ watts peak)

Freq. Response

| 23-240 Hz ±3 dB

Dimensions

| 10.9" (H) 11.7" (W) 10.7" (D)
Chest-thumping output and extreme low frequency extension with stunning refinement and musicality – reference subwoofer performance has never been available at this price from a cabinet of this size, ever. Measuring just over 15-inches cubed, the SB-3000 outperforms much larger subwoofers and takes command of a room sonically without taking over visually.
Driver

| 13"

Amplifier

| 800 watts RMS (2500+ watts peak)

Freq. Response

| 18-270Hz ±3 dB
Dimensions

| 15.6" (H) 15.2" (W) 17.8" (D)
Earth-shaking output, subterranean low frequency extension, crisp speed in transients and pinpoint control, the PB-3000 delivers reference subwoofer performance at a breakthrough price. Breathtakingly forceful and refined bass hits new lows.
Driver

| 13"

Amplifier

| 800 watts RMS (2500+ watts peak)

Freq. Response

| 16-260 Hz ±3 dB (standard mode)
18-260 Hz ±3 dB (sealed mode)
Dimensions

| 21.9" (H) 18.3" (W) 26" (D)
3000 Series Subwoofer Technology
Inspired Engineering for Immensely Deep and Powerful Bass with Pinpoint Control and Accuracy.
The new SVS 3000 Series technology ecosystem features important breakthroughs from the 16-Ultra Series and 4000 Series, the most awarded subwoofers in existence. This technology joins with exclusive 3000 Series innovations to set a new standard for subwoofer performance value. More people than ever can now enjoy room-shaking bass below the threshold of human hearing with revealing clarity and pinpoint accurate frequency response.
Click the

callouts to learn about 3000 Series subwoofer technology.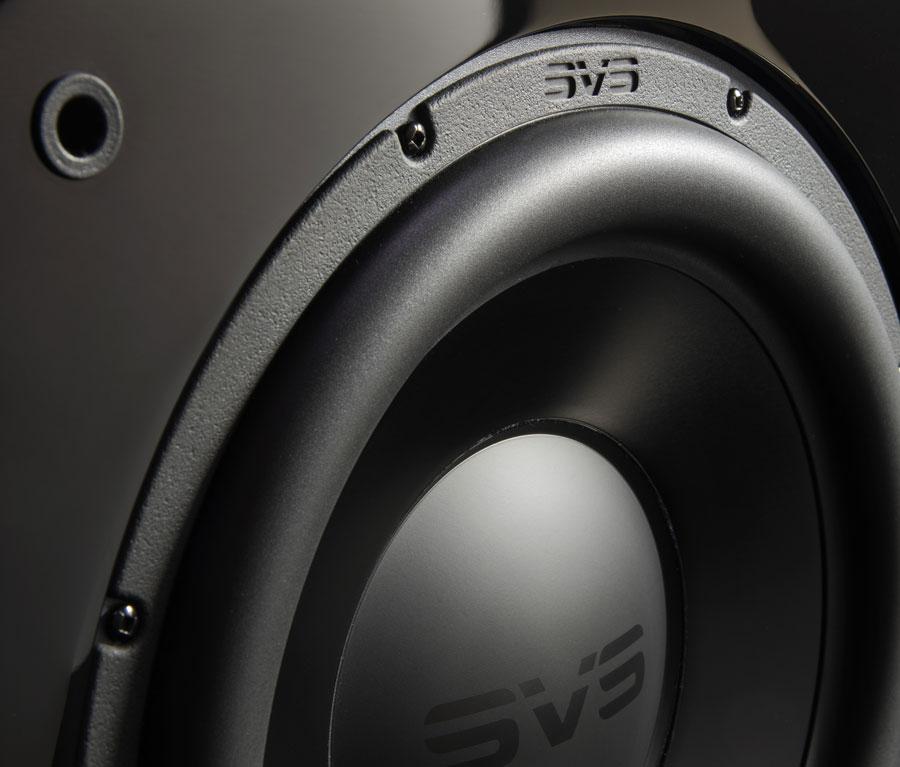 Formidable All New SVS 13-inch Driver is an Iron Fist Inside a Velvet Glove.
All-new SVS 13-inch driver is the largest and most advanced available in this price range. The new design is packed with innovations to ensure incredible output and low frequency extension with accuracy in frequency response and pinpoint transient speed. A flat edge wound split-wind voice coil maximizes magnetics to ensure visceral, chest-pounding bass without sacrificing refinement or control. You're always feeling the full intensity of every song or scene with no distortion or limiting at all volume levels.
Basket design and motor technology in the 3000 Series takes performance even further. An all new cast aluminum basket provides rigid housing and superior thermal cooling for the massive 40lb motor assembly. Two massive, dedicated toroidal ferrite magnets within the motor generate unparalleled levels of magnetic force to drive the highest levels of excursion, SPL and start/go power for the deepest and most authoritative bass possible.
Massive Power with Precise Control from 800 Watts RMS, 2,500+ Watts Peak Sledge Amplifier.
Conservatively rated at 800 watts RMS, 2,500 watts peak power Sledge STA-800D2 amplifier maximizes the full potential of the 13-inch driver with effortless power and absolute control. The innovative design combines the efficiency of a Class D amplifier with the ability to move colossal amounts of current through the fully discrete MOSFETs, enabling immense output with surgical precision resulting in outstanding real-world subwoofer performance at all drive levels.
A sophisticated 50Mhz High Resolution Analog Devices Audio DSP is the most advanced digital processor ever used in a subwoofer. The "brains" behind the serious brawn maintains pinpoint accuracy and pristine sound quality through advanced in-room tuning, optimized frequency response curves, powerful DSP controls and more.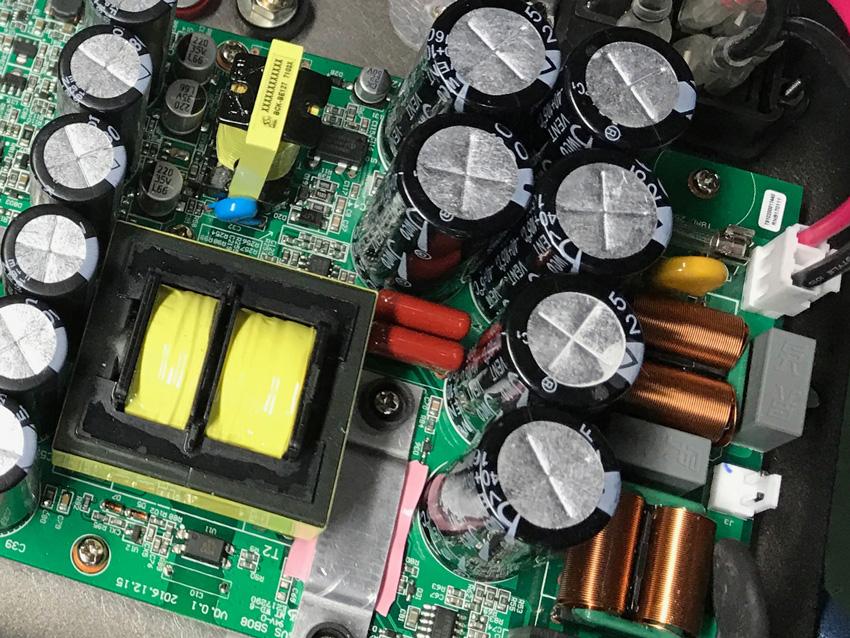 Multiple Options for Bass Management and Subwoofer Control.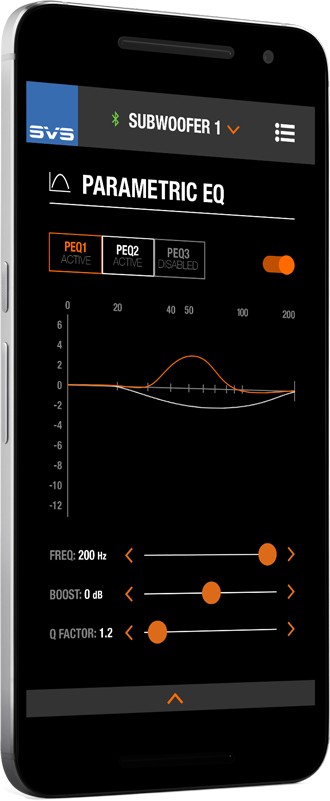 SVS Subwoofer Smartphone App
The 3000 Series subwoofer app is the most convenient way ever to control volume, access multiple DSP functions and program custom presets for one-touch tuning optimized for music, movies, gaming, and more. Adjust crossover frequencies, a three-band parametric EQ, polarity, room gain and more from your favorite seat.
The SVS subwoofer app also allows advanced customization so you can name your subwoofer for easy preset switching, choose the subwoofer standby mode and reset the subwoofer to factory settings. Bluetooth connectivity allows full control, even when the subwoofer is out of sight and bi-directional feedback shows adjustments in real time on both the app and rear panel subwoofer interface.
New Rear Panel Intelligent Control Interface (ICI)
Designed specifically for the 3000 Series Subwoofers, the Intelligent Control Interface (ICI) on the rear panel of the 3000 Series cabinets provide control options for the subwoofer's most critical functions. Adjustments can be made for volume based on listening preferences and content to achieve full and balanced bass response.
Other features of the ICI include a low pass filter to ensure smooth sonic transitions and seamless blending with loudspeakers and phase control to shift timing of subwoofer output to align with main speakers or additional subwoofers.