Adding surround sound speakers to your home theater is one of the most thrilling upgrades you can make because it adds a level of dynamic impact and realism you can't get from a soundbar or 2-channel stereo setup.
The sensation of sound coming from all around is a hallmark of truly convincing home audio experiences. The crack of a twig behind you, a jet soaring overhead, voices in a crowded room; these effects need to be conveyed with spatial imaging to emphasize what is happening off-screen and all around you.
All SVS surround speakers deliver pristine clarity and stunning dynamics for the most convincing surround sound effects possible with options for side surrounds, rear surrounds, and immersive Dolby Atmos height effects. SVS Prime and Ultra Series models install easily and can be mounted on-wall, on-ceiling, or stand mounted.
Interested in a full SVS Surround Sound Speaker System? Check out all our systems here, or create your own using the SVS System Builder tool.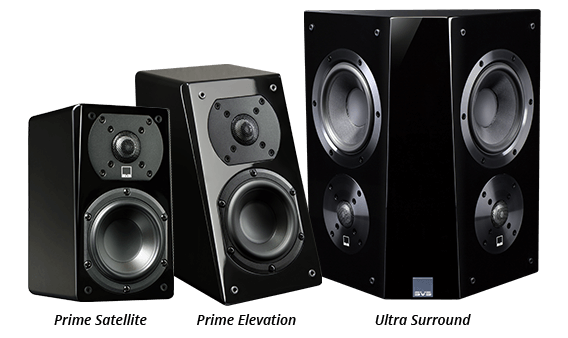 User Reviews
Alfonso I. Reviews the Ultra Surround

"These bad boys sound amazing!!! Very crisp clear! And a very nice midbass also."- Alfonso I.
Rory M. Reviews the Prime Elevation

"After installing my new SVS Prime Elevation speakers my wife and I were blown away. We are now enveloped by sound in a way I never thought possible with our...
View all User Reviews
Press Reviews
MaddApple Ranks Prime Satellite "Best Satellite Speakers for 2021

"From the moment you feel the weight of the Prime Satellite Speaker it becomes clear that no other satellite speaker offers this level of audiophile design, ...
YouTuber "Cheapaudioman" Reviews Ultra Bookshelf

"The Ultra Bookshelfs in a stereo application handle any soundtrack with ease. Very exciting speakers that don't fatigue, and beg to be turned up to the max...
The Audio Beatnick Reviews the Ultra Bookshelf Loudspeaker

"An expansive and airy stereo image. The speaker's ability to start and stop on a dime demonstrated impressive agility and speed. Crisp leading-edge transie...
Prime Elevation Review by Widescreen Review

"The Elevations are just too good to use only as height channels…Highly recommended…A 10 out of 10 from me on this one." -Widescreen Review
The Missing Remote Reviews Prime Satellite and Prime Tower 5.0 System

"The Prime Satellites handle the high and mid-range quite well and easily outclass similarly sized and priced bookshelf speakers."
AVTechReviews - Chris Murray Reviews the Prime Series Speakers

"… have a surprisingly big sound… flawless in its performance…get a audiophile grade home theater system at a fraction of the cost."
Prime Series Speakers Receive Digital Trends Editors Choice Award

"With effortless performance, elegant design, and striking value, SVS' Prime Series hits the ultimate sweet spot in the audiophile segment."
View all Press Reviews
An uncompromised, high fidelity height channel speaker for Dolby Atmos, DTS:X or Auro-3D, its incredible versatility and easy installation on walls or ceilings also lets it serve as a multi-purpose home theater speaker to solve virtually any room placement issue.
Tweeter

| 1"

Midrange

| 4.5"

Woofer

| N/A

Freq. Response

| 55 Hz-25 kHz (±3 dB)
Dimension

| 9.25" (H) 5.4" (W) 7.9" (D)
Amazingly big sound from the most compact speaker in the SVS line. The Prime Satellite defies expectations with powerful dynamism and pinpoint accuracy as a front, surround, center or height channel speaker.
Tweeter

| 1"

Midrange

| 4.5"

Woofer

| N/A

Freq. Response

| 69 Hz-25 kHz (±3 dB)
Dimension

| 8.85" (H) 4.9" (W) 6.3" (D)
Dual isolated tweeter and woofer crossovers in the high-performance Ultra Surround speaker allow for bipole, dipole, or innovative SVS Duet Mode, which creates two speakers in a single cabinet. Go from 5.1 to 7.1 and beyond without adding more speakers.
Tweeter

| Dual 1"

Midrange

| N/A

Woofer

| Dual 5.5"

Freq. Response

| 58 Hz-32 kHz (±3 dB)
Dimension

| 14" (H) 12.3" (W) 7" (D)
Create Your Perfect Speaker Package with the SVS System Builder
Choose from preset speaker systems or customize your own by selecting any combination of SVS Prime and Ultra Series speakers and all ported and sealed subwoofers. Save 5% when ordering 5 or more products.
Build a custom 5.1 surround sound system, add Dolby Atmos speakers for height effects, include dual subwoofers, and more.
Build your system
SVS Speaker Design Philosophy
When designing high performance loudspeakers, even the smallest details have acoustic consequences. Our engineers scrutinize every build material, cabinet angle, engineering process and measurement to achieve a level of audio excellence that is unmistakably SVS.
In this two-part "Understanding Speakers" video series, SVS President Gary Yacoubian explores how an idea becomes an SVS speaker in Part One and offers tips for choosing the best tower speakers or any loudspeakers in Part Two.
Other Helpful Resources
Check out these helpful articles when choosing the best surround sound speakers.

Why Home Theater Surround Sound is Better Than a Soundbar
Understanding the differences between the two SVS speaker lines.

Dolby Atmos Takes Immersive Audio to New Heights
Important things to know about sound quality, room set-up, budget and more.

The Art of Speaker Placement
Tips for optimizing speaker placement when setting up a two-channel stereo or surround sound home theater speaker system.

How to Build the Ultimate Home Theater Experience
Learn about the emerging audio formats and how height effects speakers can elevate your listening experience.
Financing Options

6 months no interest if paid in full.

12, 18 or 24-month financing!