Tower speakers, (aka. floorstanding speakers) are typically full-range loudspeakers used as the main left and right speakers in a stereo pair or the front L/R channels in a home theater surround sound system. Although, they can certainly be used in other ways. Unlike satellite or bookshelf speakers, tower speakers are placed directly on the floor without the need for furniture or speaker stands.
Hallmarks a world-class tower speaker include wide dynamic range, accuracy at all frequencies and room-energizing sonic impact. To achieve this, all SVS tower speakers feature high-performance woofers, midrange drivers and tweeters blended seamlessly together with sophisticated SoundMatch crossovers. The result uncompromising sound that extends from airy, unveiled highs and a crystal-clear midrange down to accurate and room-energizing bass you can feel.
SVS manufacturers three different tower speakers, the Prime Tower, Prime Pinnacle and Ultra Tower. All three models embody all the characteristics of a true audiophile speaker - revealing clarity, unerring accuracy, and pinpoint transient speed. Every musical track is rendered faithfully to how the artist intended. SVS floorstanding speakers also unleash stunning low frequency extension and breathtaking dynamics, meaning they can reproduce all the thrills and excitement present in the most demanding action movie soundtracks.
Whether you're a highly discerning audiophile or an action movie junkie who only plays at reference volume, SVS makes the best tower speakers for a thrilling and immersive experience.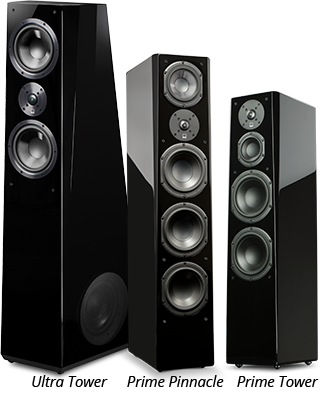 User Reviews
Jeff T. Reviews the Prime Pinnacle

"Even stiff and new the Pinnacles immediately sounded amazing! The detail and clarity of instruments and the smooth well balanced vocals are stunning and the...
Marco S. Reviews the Ultra Tower

"Better than I thought in every way. Svs fan for life."- Marco S.
Brian S. Reviews the Prime Tower

"Crispy highs, good bass, and an incredible sound stage. Great for theatre or music playback. What a great speaker for the price!"- Brian S.
View all User Reviews
Press Reviews
SVS Prime Pinnacle Earns "Reference" Status in 5-Star Review

"Detailed, full-range sound, a speaker that sounds like it costs far more. The construction is top-notch, and the sound quality is fantastic. Listening to st...
The Master Switch Reviews the Prime Pinnacle

"The SVS Prime Pinnacle speakers deliver warm and engaging sound quality that is quite addictive. Bass on is just sublime. The construction and build quality...
YouTuber "Techno Dad" Reviews Prime Pinnacle Speakers

"Very impressed! The prime pinnacles are versatile and great for music, movies and everyday TV watching. Overall, these are great speakers in a multi-channel...
HiFi Voice (Czechoslovakia) Reviews the Prime Pinnacle Loudspeaker

"Prime Pinnacle are universally "bombastic", they can play great soundtracks of modern films, contemporary, pop and rock with authority. For clarity and inte...
Prime Pinnacle Earns Enjoy The Music's "Blue Note 2020" Award

"Clear, tight, deep and downright wondrous. If you are looking for a speaker that does music and HT equally well, the Pinnacle is an absolute no brainer."
New Record Day Reviews the Prime Pinnacle Tower Speaker

"Truly a versatile speaker. No matter what gear you have or what room you listen in, it's like clay, you can mold it to sound great. Plenty of reveling deta...
Prime Pinnacle Honored with HiFi News "Outstanding Product" Award

"Sound that's as big and bold as they come at this price. As well as being nuanced, authoritative and weighty with the bass, these SVS floorstanders are ver...
EISA Names Prime Pinnacle "Best Loudspeaker"

"Sitting at the top of the SVS Prime range, this classically-styled floorstanding model is of simple design and construction, yet delivers a clear, crowd-ple...
The Master Switch Hails Prime Pinnacle as "Best Overall Floorstanding Speaker"

"In terms of sound, value, and design, they just crush it. We adore the audio quality, which manages to be both breathtakingly powerful and surprisingly art...
HiFi Chicken Reviews the Prime Tower Loudspeaker

"Beautiful and finish and profile with the all the important acoustics to match. It's hard to compete with the Prime Tower on price considering the excellen...
Home Media Entertainment Reviews the Prime Pinnacle Loudspeaker

"The towers were able to dig deep yet feel refined enough to deliver musical details with convincing realism. Along with a rock-solid mid-range and energeti...
HiFi Trends Reviews the Prime Tower Loudspeaker

"An incredible speaker. The imaging and soundstage are excellent, the scale is incredible, and they have a lovely midrange. The bass and dynamics are except...
AVOnline (Hungary) Reviews the Prime Pinnacle Loudspeaker

"Conjured up a huge soundstage with a realistic panorama of 3D low frequency sound. Even with familiar recordings we felt details that were not coming from ...
Prime Pinnacle Loudspeaker Reviewed by Home Theater Review

"The SVS Prime Pinnacles astounded me with their tight bottom end, impressive midrange, and holographic imaging capabilities, and more so with their impressi...
Audioholics Reviews the Prime Pinnacle Loudspeaker

"The SVS speakers proved to be adept with all aspects of the sound, begged for a high playback level. Smooth, articulate sound with terrific imaging. Excelle...
SalonAV (Russia) Reviews the Prime Pinnacle Loudspeaker

"Prime Pinnacle are real flagship speakers capable of outstanding playback of music and for energizing a small cinema. Recoil and transient speed are fast, w...
Prime Pinnacle Receives AVSForum's Top Choice 2019 Award

"Pristine, detailed sound with an enveloping soundstage that transcends the boundaries of the room and has palpable three-dimensionality. I got chills and go...
Area DVD (Germany) Reviews the Prime Pinnacle

"Solid bass, harmonious sound and convincing clarity, with impeccable incorporation of small details. The low frequencies have weight and at the same time ar...
TechnoDad Reviews the Ultra 5.1.4 Speaker System

"Massive impact and presence, it was just glorious hearing this system perform. Very capable of handling anything with clarity and massive impact when called...
LA Audio File - Kevin Nakano Reviews the Ultra Tower

"The SVS Ultra Towers are certainly one of the best sounding speakers we have heard in the sub-$2000 (per pair) category. The ability to reproduce subtle de...
View all Press Reviews
Exceptional clarity, flawless tonal balance and room-energizing bass response, the Prime Tower speakers set the benchmark as best floorstanding stereo speakers around $1,000 with stunning performances in a two-channel audiophile or surround sound home theater systems.
Tweeter

| 1"

Midrange

| 4.5"

Woofer

| Dual 6.5"

Freq. Response

| 30 Hz-25 kHz (±3 dB)
Dimension

| 36.6" (H) 8" (W) 11.6" (D)
Smooth, crisp and refined sound without sacrificing effortless bass and jaw-dropping impact. Prime Pinnacle speakers render the finest musical details with breathtaking clarity and deliver massive cinematic dynamics to bring thrilling and immersive sound within everyone's reach.
Tweeter

| 1"

Midrange

| 5.25"

Woofer

| Triple 6.5"
Frequency Response

| 29Hz-25 kHz (+/-3 dB)

Dimensions

| 41.1" (H) X 8" (W) X 13.9" (D) (includes grille, feet and binding posts)
Standing toe-to-toe with the finest speakers in the world, the flagship SVS Ultra Tower speaker's innovative driver design and cabinet geometry convey incredible resolution, absolute transparency, commanding bass and crisp, powerful dynamics.
Tweeter

| 1"

Midrange

| Dual 6.5"

Woofer

| Dual 8"

Freq. Response

| 28 Hz-32 kHz (±3 dB)
Dimension

| 45.6" (H) 13.8" (W) 16.8" (D)
SVS Speaker Design Philosophy
When designing high performance loudspeakers, even the smallest details have acoustic consequences. Our engineers scrutinize every build material, cabinet angle, engineering process and measurement to achieve a level of audio excellence that is unmistakably SVS.
In this two-part "Understanding Speakers" video series, SVS President Gary Yacoubian explores how an idea becomes an SVS speaker in Part One and offers tips for choosing the best tower speakers or any loudspeakers in Part Two.
Other Helpful Resources

SVS Prime and Ultra Series Speakers: A Comparison
Understanding the differences between the two SVS speaker lines.

Choosing Between Bookshelf and Tower Speakers
Important things to know about sound quality, room set-up, budget and more.

The Art of Speaker Placement
Tips for optimizing speaker placement when setting up a two-channel stereo or surround sound home theater speaker system.

Getting Started with Dolby Atmos, DTS:X and Auro-3D
Learn about the emerging audio formats and how height effects speakers can elevate your listening experience.
Financing Options

6 months no interest if paid in full.

12, 18 or 24-month financing!