Reference Quality Bass, Groundbreaking SVS Value.
SVS 4000 Series subwoofers demolish all preconceived notions about subwoofer performance and technology by unleashing reference caliber bass at a breakthrough value. With trickle down technology from the 16-Ultra Series, named top subwoofers in the world by nearly every audio publication and industry group, the 4000 Series obliterate expectations and deliver a level of unrivaled subwoofer performance only available from SVS. Earth-shaking SPLs, jaw-dropping deep bass extension, pinpoint control and accuracy with sophisticated control; all the hallmarks of a reference subwoofer are embodied in the SVS 4000 Series.
User Reviews
Dillon M. Reviews the PC-4000

"I purchased a PC-4000 after doing a lot of research and reading many reviews with excellent test results. Man was I blown away by just how good this sub is!...
Miguel S. Reviews the PB-4000

"I never experience a subwoofer like pb 4000. WOW I'm blown away I'm very satisfied."- Miguel S.
Rob W. Reviews the SB-4000

"There a very few absolutes in the universe but I'll add some to the list. I will absolutely buy only SVS subs for any and all my future subwoofers. Not only...
View all User Reviews
Press Reviews
HomeTheaterReview.com Reviews the SB-4000

"Provided a solid, deep bass foundation with both music and movies…Shook and rattled my room with ease, a great multi-purpose subwoofer that balances brawn ...
TONE Audio Reviews the PC-4000

"Digs down deep. In a larger room, it was easy to achieve near concert hall levels, and we could not drive the PC-4000 to clipping or exceed the woofers excu...
AVReport.ru Reviews the SB-4000 (Russia)

"Brutal, but beautiful in its own way. Deep, smooth and superbly fast bass. Potent, clear and energetic with movies and pristinely natural with music. Output...
4000 Series s Receive HCReview's Reference Award (French)

"Delivers linear bass with impressive pressure levels, while managing to maintain extremely low distortion rates. Visceral, agile and powerful performance. A...
Positive Feedback Reviews the SB-4000

"Fast, tuneful bass, huge amounts of slam and infrasonic bass extension. A welcome dollop of gut level satisfaction. The subwoofer delivered high quality, hi...
PB-4000 Receives the Audioholics 2018 Product of the Year Award

"It is as much of a beauty as it is a brute, in that it looks and acts sophisticated but that is just a veneer that hides some truly explosive power. It exe...
SB-4000 Receives AVS Forum Top Picks 2018 Award

"TOTALLY pressurized my theater. With movies, I felt the power of explosions in my heart and head! Like I was getting hit with a sledgehammer in the chest! ...
SB-4000 Receives Stereoplay's Highlight 2018 Award (Germany).

"Galactic good. Blended seamlessly with multiple speakers and it showed sovereignty in all aspects. Deep bass notes were crisp and clean with no overhang. I...
HXOS+ SoundVision (Greece) Review the SB-4000

"The SB-4000 is a "scary" subwoofer full of energy. From the very first Hz onward, mainly felt in the chest and your belly, to the last ones around the cut-...
SpareChange Reviews the PC-4000 (Youtube)

"Delivers a great combination of hard-hitting bass and ultra low-end rumble. Quick, hard-hitting tactile bass that can give your body a nice little massage ...
KSpaceGuy Reviews the PB-4000

"This subwoofer sounds phenomenal. For a 13-inch driver to sound as crisp and accurate as it does is just a testament to SVS engineering prowess. Plus, the ...
HomeCinemaMagazine.nl (Netherlands) Reviews the SB-4000

"With the SB-4000 you get a subwoofer that is immensely powerful and dives very deeply - and that also works smoothly in large spaces. It is also incredibly...
Hemmabio (Sweden) Reviews the PB-4000

"Massive, powerful, controlled, forceful, extremely deep, detailed, nuanced, it's a lot of words in my book and they're all positive. An extremely competent...
SB-4000 Receives the EISA Best Product Award for Home Theater s

"The SB-4000 is in a class of its own. This breathtaking subwoofer is capable of unleashing pure dynamics even with the very lowest subsonic frequencies and ...
SB-4000 Receives Audio Magazine's "Recommended Product" Award (Germany)

"Extended deep bass in the room with audiophile precision. The SVS SB-4000 executed the perfect bass storm – with power and yet easiness."
PB-4000 Receives Audioholics Bassaholic Extreme Award

"Tears into bass, the deeper the frequency, the more energetic it gets…users who want strong, uncolored bass that doesn't change its character at all with v...
High Def Digest Reviews the SB-4000

"An exceptional subwoofer capable of producing incredibly clean and powerful bass. The SB-4000 can really bring the thunder…slammed me with impressive impac...
PC-4000 Earns HomeCinemaChoice "Recommended" Award

"It can rattle your house with room-filling low-frequency energy, delivering bass notes that you feel in your stomach…Plenty of low-end extension here, but a...
PC-4000 Receives AVSForum's Top Choice 2018 Award

"The PC-4000 plays deep, clean, and loud without breaking a sweat. It is extremely capable of handling the most demanding movie soundtracks with foundation-...
SB-4000 and PB-4000 s Receive Heimkino's Reference Class Award

"The SB-4000 subwoofer convinces with a crisp, precise reproduction of lowest frequencies. For the ultimate pressure in the diaphragm, the PB-4000 is partic...
View all Press Reviews
Chest-thumping slam and extreme low frequency extension with pinpoint accuracy and refined musicality, sets all performance benchmarks and leaves larger and more expensive subs trembling in its wake.
Driver

| 13.5"

Amplifier

| 1200 watts RMS (4000+ watts peak)

Freq. Response

| 19-310Hz ±3 dB
Dimension

| 18.3" (H) 17.8" (W) 20.9" (D)
Staggering low-frequency output and subterranean deep bass extension down to 13Hz with an amazing degree of subtlety and finesse to thrill both action movie buffs and ardent audiophiles.
Driver

| 13.5"

Amplifier

| 1200 watts RMS (4200 watts peak)

Freq. Response

| 16-200 Hz ±3 dB (standard mode)
13-200 Hz ±3 dB (extended mode)
18-200 Hz ±3 dB (sealed mode)
Dimension

| 23.4" (H) 20.5" (W) 30" (D)
With a footprint measuring just 16-inches in diameter, the iconic cylinder subwoofer design is only available from SVS, and achieves unparalleled low frequency output and deep bass extension per inch of floor-space.
Driver

| 13.5"

Amplifier

| 1200 watts RMS (4000+ watts peak)

Freq. Response

| 17-200 Hz ±3 dB (standard mode)
15-200 Hz ±3 dB (extended mode)
16-200 Hz ±3 dB (sealed mode)
Dimension

| 47" (H) 16.6" (W) 16.6" (D)

Weight

| 92.4lbs
Flawless Bass Response from Performance Driven SVS Design Innovation.
Multiple Options for Bass Management and Subwoofer Control.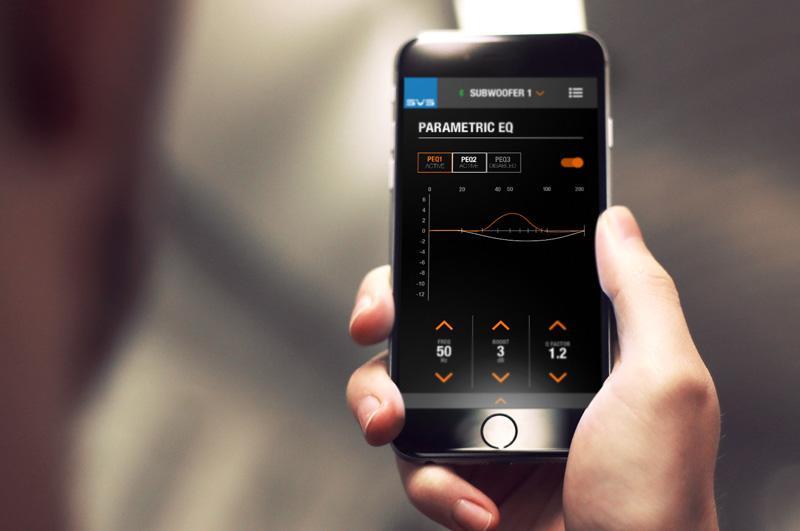 SVS Subwoofer Smartphone App
The 4000 Series subwoofer app is the most convenient way ever to control volume, access multiple DSP functions and program custom presets for one-touch tuning optimized for music, movies, gaming, and more. Adjust crossover frequencies, a three-band parametric EQ, polarity, room gain and more from your favorite seat.
The SVS subwoofer app also allows advanced customization so you can name your subwoofer for easy preset switching, choose the subwoofer standby mode and reset the subwoofer to factory settings. Bluetooth connectivity allows full control, even when the subwoofer is out of sight and bi-directional feedback shows adjustments in real time on both the app and rear panel subwoofer interface.